An innovative technology that helps businesses save significant amounts of money as well as operate with greater efficiency is known as virtualization. This concept was first implemented into larger companies that had considerable IT resources, however, now businesses of all sizes are jumping on board. But how do you know if virtualization is right for your business or not?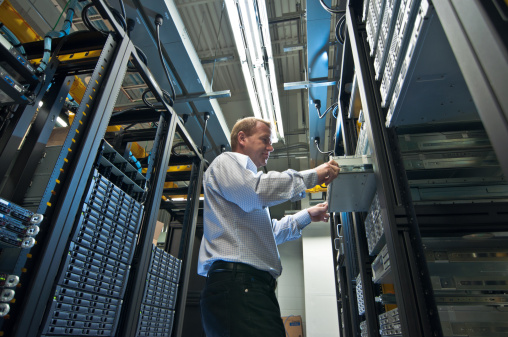 Determining if virtualization makes sense for your business
Virtualization is ideal for companies who are operating in the 5-7 server mark, according to knowledgeable sources, especially if there is a low per-application server utilization rate. Going forward to a larger scale, at the 10-15 server mark companies are guaranteed to see a return on their investment.
When determining whether or not virtualization may be right for your business, be sure to ask yourself the following questions:
Does your company have the significant server capacity?
Do your users require a full desktop experience? This is ideal for virtualization!
Are you considering a large scale desktop refresh in the near future? If so, virtualization can assist in delaying the expense of replacing a large number of desktops at once.
Is your network infrastructure capable of handling the required user bandwidth?
Is there sufficient storage capacity? As a general rule of thumb, depending on job requirements, you will need an estimated 30-40 GB per user.
The Pros of Virtualization
IT managers are capable of deciding whether or not virtualization is right for the company, or if the business is even in a position to take on a project of this scale. There are many benefits you will want to reflect on when justifying the allocation of resources, such as:
Reduced energy, operating and maintenance costs
Less physical servers required
The ability to move to the cloud
Longer hardware refresh cycles
Remote access to files and applications
Ability to use thin clients
Faster and simpler backup and disaster recovery
An improved IT infrastructure
Fewer unplanned outages and less downtime
Hardware and software upgrades are deployed more efficiently
Increased security
The Cons of Virtualization
It is hard to imagine any drawbacks to virtualization when it offers so many benefits. There are no real negatives so to speak of, but it is important to consider several factors before embarking on virtualization. These factors include:
Software Licensing – oftentimes software licensing can be a challenge in virtualized environments. It is imperative to ensure you fully understand the vendor's licensing requirements in order to keep costs under control.
Cost – expense is always a factor, and depending on the current state of your network it may be necessary to make a substantial hardware and software investment.
Learning Curve – it may be necessary to provide employees with new skills and training in order to effectively implement and manage your virtualized environment.
It is also important to understand that not every application is well suited to virtualization. Ill-suited types of apps include:
Certain security apps
Mobile
Media rich
Apps requiring certain peripherals
If there is a considerable number of employees within your company using these types of software, it may be a better decision to invest in more hardware or deploy virtualization on a smaller scale.
The Real Talk About Virtualization
Real world IT professionals have shared their experiences in regards to implementing virtualization, and have had this to say:
RAM is important, and you don't want to be caught without enough. Be sure to investigate how much RAM is needed both currently and in the future.
Be careful with the number of virtual machines you create. While it may be inefficient to carry too many physical machines the same is true for virtual ones.
Do your research and ensure you are well educated on virtualization. Consult with professionals and learn everything you can before determining whether or not it is right for your business.
Look into which architectures require specific RAID controllers and/or CPUs.
Make sure you clearly understand vendor licensing agreements, as virtualization can have increased costs.
Plan ahead, setting up failover for all the major components of your network infrastructure to avoid downtime and achieve adequate redundancy.
Proceeding With Virtualization
Moving to virtualization requires a great deal of consideration and planning, but once it has been implemented your company will see numerous benefits over the long term. When planning to proceed with virtualization it is important to take the time to determine how much time and money is currently being spent on hardware, software, support, maintenance and things of this nature and compare it to the average savings from others across the industry.
This will show you how much your organization can expect to save from virtualization. This process does not have to be embarked upon alone, there are many resources available to help you track you're spending and cost expenditures, as well as help you evaluate whether or not virtualization is the right choice for your business.
The first step will always be an in depth analysis of your current company environment, but it is highly likely that virtualization will save you both time and money
Ready to see if virtualization can improve your workflow while reducing the costs of business operations? We're here to help! No matter what industry you're in, virtualization solutions from eMDTec will help improve your productivity and make your life easier – you'll finally get the maximum return on your IT investment.
Discover how our Managed IT services can empower your business with smart and dependable Virtualization Services that are tailored to meet your business needs and goals.
Contact eMDTec today to help get a better understanding of virtualization and our other IT services by calling (800) 979-_2879 or emailing us directly at info@emdtec.com.